POSTS
El Gallito Taco truck in Pasadena
Just north of the most excellent El Taquito truck on Fair Oaks in Pasadena, there exists the El Gallito taco truck.  This truck draws a decent crowd and and the following is getting larger by the day. It offers the standard taco fare of asada, al pastor, and pollo along with cabeza, lengua and some nice greasy chorizo for $1.25 per taco. For the non-purist, this truck also serves up burritos and quesadillas.
The tacos are delivered through the window with just the tortilla and meat, it's up to you to add onions, cilantro, and your choice of salsa (rojo, verde, avacado).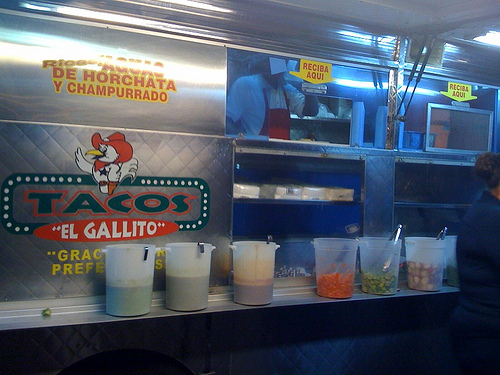 Along with more food options when compared with the El Taquito truck, there are also more drink options. You can get your agua frescas, canned sodas, and bottled Jarritos here. All these options and lack of taco specialization may be part of the reason why this truck isn't as consistently excellent as the competition just south of it.
All in all, the tacos are good (we've  definitely had worse), but not as stellar as the El Taquito truck just a half block away. Buy your tacos at El Taquito, and send your burrito loving friends up the street to pick you up a Jarritos Tamarindo Soda.
The truck is located on the corner of Fair Oaks and Bellevue Dr.:
400 S Fair Oaks Ave
Pasadena, CA 91105
Rating: B
Horchata Rating: Normal (decent)
**Positives: Plenty of parking. Bright yellow truck makes it easy to find. Large variety of DIY sauce, good selection of drinks.  They serve more than just tacos (burritos, quesadillas, and mulitas). ******Full selection of fillings: cabeza, lengua, tripa, asada, carnitas, buche, al pastor, pollo, suadero, chorizo.
**Negatives: They serve more than just tacos.  Meat and tortillas are generally quite dry, and is sometimes lacking in seasoning.  No chicharron.
**